Choosing the right floor plan can be an exciting process — a chance to personalize your home so that it perfectly fits your lifestyle and turning the home you've been dreaming of into reality. With so many options out there, complicated decisions pile up and you may feel overwhelmed at the prospect of pulling it all together. 
Experience Counts
This is where an experienced builder team can make all the difference. Gardner Homes has many award-winning floor plans that have been meticulously designed by experienced draftsman, engineers, and interior designers. But let's start at the beginning and help you prepare by going through the following steps…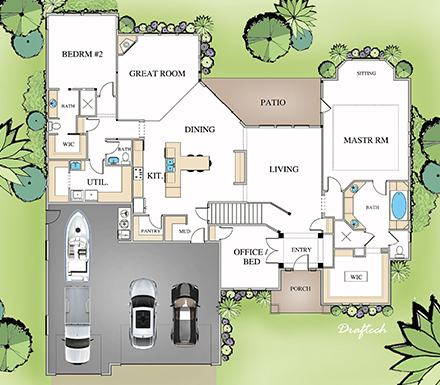 Do Your Research
The first step to choosing the right floor plan is to do your research. Visit our website project gallery where you'll find floor plan renderings, and interior/exterior photos of completed projects. Whether you're drawn to a modern farmhouse aesthetic or love the traditional qualities of a coastal Cape Cod, many Gardner exterior elevations and interior floor plans can be modified. Other sites such as Houzz and Instagram are great resources for helping you narrow in on your architectural preferences.
Prioritize Your "Must Have" List
The next step to choosing the right floor plan is to think about the features that are most important to you and your family. The sky's the limit as far as what features are available to you but consider your budget and how you want to use it. If you've always dreamed of a sun-lit meditation space off your bedroom, then put it at the top of the list along with all the other ways to make your home uniquely yours. 
The Flow Factor
The size of your home will likely determine where certain rooms should be located, but the flow of your home is completely up to you. The flexibility of a Gardner floor plan means that you can design the primary bedroom closet to flow directly into the laundry room or maybe you prefer having a home office off the primary bedroom separated by double glass doors. Thinking about how you would like rooms to relate to each other will be the customization that makes all the difference.
Consider Your Lifestyle
If creating in the kitchen is where you shine, our designers will help you create the workflow area and finishes that will truly make the kitchen the heart of your home. If you have a large family, you may want a second level bonus room with just the right storage to keep toys tidy or maybe as an empty nester you prefer a single level designed in a way that flows right out on to a patio to enjoy warm summer nights. Your lifestyle should influence how your home will flow.
Gardner Homes Commitment
The point is, the team at Gardner Homes knows that if you're building a home, you want it to be two things… relatively stress-free and more importantly… exactly what you want. There's no better way to accomplish this than to sit down with experts and let them guide you through the process. Gardner Homes has a long history in the construction industry and takes pride in offering excellent service to our clients and building award-winning homes. So, bring us your ideas, whether it's sketched on a paper napkin or saved on a Pinterest board, our award-winning team will work one-on-one with you to personalize the interior and exterior of your new home.