There are many factors to consider when choosing to build a home. It can be overwhelming to try to figure out all the logistics of how to build a home from the ground up. However, the following five tips for building a home will help ensure that you have a first-rate home building experience.
1) Ask Yourself What Your Personalized Needs Are
This may seem obvious to say, but it is unfortunately fairly common for individuals to jump into a project without having done the proper research ahead of time or to not know their personal specifications. This can cause costly delays and make life much harder on you and your builder.
Do you want to build a ready-made design or a custom home? What is your budget? What are your must-have design features? It is advisable to carefully consider these questions before starting the building process. And, while it is so important to know your personal needs, make sure to be flexible and know what is more of a "want" and what is a "need" when it comes to your budget expectations.
2) Understand Building Costs
When you build with Gardner Homes, we eliminate the stress you would undoubtedly feel when it comes to understanding building costs. So much goes into job cost estimation from building materials that are impacted by market fluctuations to labor costs that should reflect the appropriate scope of work. We work closely with trade partners, product manufacturers and suppliers to select high quality supplies and materials to estimate every project. We also believe in complete transparency so you can make decisions at every stage regarding your financial budget.
3) Design a Floor Plan that Meets Your Needs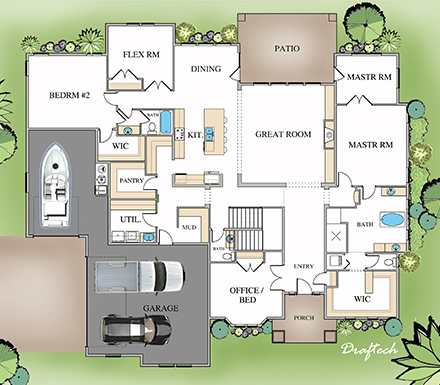 Designing the right floor plan to fit your needs is just one of the ways Gardner Homes provides customized service to our clients. Buying a home is arguably the best long term financial decision you can make so we let's get it right!
The average time in a home before selling is 5-7 years, so we need to consider the long game by asking questions like: how much space do you need, what design features are most crucial to comfort, what do you wish you could change about your current home-but currently can't, and how we can maximize functionality. We at Gardner homes can help make your home more functional with changes like adding a private bath to a main level guest suite.
Rely on our team to guide you through the process so you can design with confidence and see your dream home come together at every stage of design and build.
4) Speak with the Experts
Though it is useful to do your own research when starting your home building journey, you have an entire team with years of experience in the home building industry to guide you. From our drafting team to our in-house design center, you'll experience step-by-step teamwork throughout the duration of your build and well into the future as a homeowner.
Our service to you will not end when you put the key in the door; we consider our partnership long-term to assist you in the case of a warranty issue or with any questions you may have as a new homeowner. We are a home building company that services communities in Idaho and Utah. We are excited to help you learn more tips for building a home and much more. Contact us today to start your home building project!